Steel Hamilton 992 Wind Up
Prices: Minimum 663 Average 663 Maximum 663

To see a particular watch in more detail, click on its picture.
---
1 item found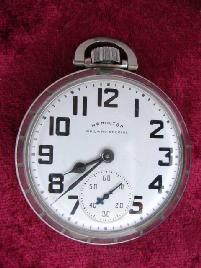 Hamilton -
992b, 21j,adjusted 6 pos ,lever set
[movement]
,
near mint
Hamilton stainless steel screwback and bezel case,,size 16
[back]
another view
[view]
.
near mint
Original painted metal dial, blue steeled hands, subsidary seconds.
From 1950, this Hamilton "992b" is in almost new condition, which is very rare to find today as the dials are very subsceptible to affects of exposure to light over long periods of time as well as oxidation. It would appear that this watch has sat n a drawer for most of its life . Should be stored in a dark enviromnment and only viewed at certain times perhaps with gloves in order to preseve the conditon on this fine example of one of America;s finest railroad watches.
(Ref r863)
$663 - SOLD (8/14/2006 8:33:47 PM)
1 item found
---