Gold Filled or Plate Hamilton 940 Wind Up
Prices: Minimum 550 Average 550 Maximum 550

To see a particular watch in more detail, click on its picture.
---
1 item found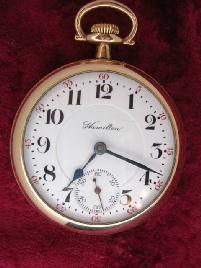 Hamilton -
21j, manual, adjusted
[movement]
,
near mint
Beautiful yellow gold filled case with fancy decoration, size 18
[back]
another view
[view]
.
mint
Original double sunk enamel dial, subsidiary seconds,.
From 1907 a fine example of a Hamilton "940". A working railroad watch in all round excellent condition. Very nice addition to your collection..
(Ref rm975)
$550 - SOLD (1/21/2008)
1 item found
---